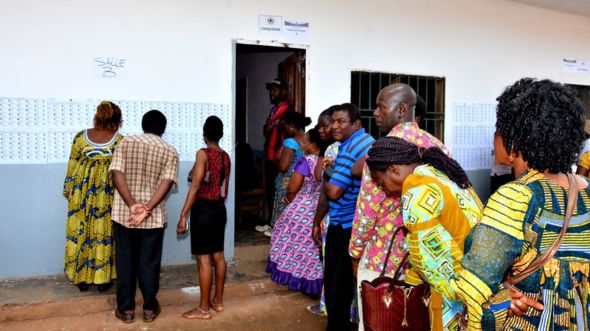 Fiye da mutum miliyan shida ne ake sa ran cewa za su kada kuri'a a zaben shugaban kasar da ke gudana a ranar Lahadi a Kamaru.
'yan takara takwas ne na bangaren 'yan adawa ke fafatawa da shugaban kasa Paul Biya mai ci wanda ke kan mulki shekara 36 kenan.
Rahotanni sun ce har rana ta take ba a samu cunkoson jama'a ba a rumfunan zabe a birnin Yaounde.
Sai dai kuma bisa ga dukkan alamu komai na wakana cikin kwanciyar hankali, saboda ana gudanar da zaben ne a wasu rumfuna ba tare da wakilan wasu 'jam'iyyu ba.
To amma rahotanni daga yankin renon Ingila na cewa, an yi musayar harbe-harbe a wasu unguwanni na birnin Buea da ke da nisan kilomita 18 da Molyko.
Kazalika wasu rahotannin sun tabbatar da cewa an kai wa ayarin motocin shugaban karamar hukumar Buea hari a lokacin da yake sintiri na ganin yadda zabe ke gudana.
Firaminista Yang Philemon, ya kada kuri'a a birnin Bamenda a maimakon Oku, inda ya yi rijista a dalilin rashin tsaro da ya dabaibaye garin.
Kamaru na zaben shugaban kasa
Bayanai kan 'yan takarar shugabancin Kamaru
Kamaru 'Mata na da rawar takawa a fagen siyasa'
Hukumar shirya zabe (ELECAM) ba ta yanje takardar kuri'ar Akere Muna Tabeng ba, dan takaran jam'iyyar PFD (Popular Front for Development) wanda ya janye, ya kuma nemi magoya bayansa da su mara wa Maurice Kamto, na jam'iyyar MRC (Mouvement pour la Renaissance du Cameroun) baya.
Hukumar zaben ta bayyana cewa babu wata doka a cikin dokar zabe da ta yar je wa wani dan takara ya janye bayan ya gabatar da kan shi, kuma hukumar zabe ta yar da.
Har ila yau kuma babu ta yadda za a kawar da takardun kuri'un wani dan takara kasa da sa'o'i 24, kafin a gudanar da zabe, bayan an isar da kayan zabe a dukkanin mazabu.
Hukumar shirya zaben ta kuma hana yin amfani da wayoyi hannu har izuwa lokacin da za a rufe rumfunan zabe da karfe 6 na yamma.
Idan an kammala zaben, to nan take za a kirga a kowacce mazaba, sannan a mika wa kwamitin da zai ci gaba da bincika sahihancin alkaluma, daga bisani kuma sai kwamitin ya mika wa kotun tsarin mulki wadda za ta bayyana sakamakon nan da kwanaki 15.
BBC Hausa