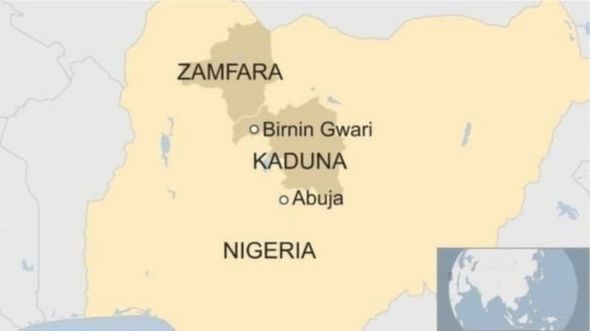 'Yan bindigar da suka sace mutum 25 a Birnin Gwari da ke jihar Kaduna a arewacin Najeriya sun bukaci a biya su miliyoyi kafin su sake su.
Mutanen da 'yan bindigar ke garkuwa da su, sun kunshi mata da ke shayarwa.
Wani mazauni Birnin Gwari kuma makusanci ga mijinta matar da ke shayarwa ya shaida BBC cewa 'yan bindigar sun bukaci a biya Naira miliyan biyar kafin su saki mutanen.
Ya ce sun kira mijin matar sun shaida masa adadin kudin da suke bukata. "Mijin ya yi ritaya daga aiki ba ya da karfin biyan kudin" in ji shi.
Ya ce akwai kuma 'yar uwan mijin da aka sace su tare da matarsa da ke shayarwa.
"Yanzu barayin sun amince a biya Naira miliyan daya ga duk mutum daya da kuma katin waya na Naira 30,000 kafin su sake su."
Ya kara da cewa sun tattauna da matan kuma sun ce duk ruwan da ake akansu yake karewa, kuma ba wani abincin da barayin ke ba su.
'Yan bindiga sun sako amaryar da suka sace a Birnin Gwari
'Yan fashi sun 'kashe mutum 10' a Birnin Gwari
Tun a ranar Juma'a 'yan bindigar suka tare motocin fasinja a hanyar Birnin Gwari zuwa Kaduna kuma suka yi awon gaba da mutane dama da ke cikin motocin.
BBC ta yi kokarin jin ta bakin 'yan sanda amma kakakin rundunar 'yan sandan jihar Kaduna ASP Aliyu Mukhtar bai amsa kiran waya ba.
Yankin Birnin Gwari a Kaduna na cikin yankunan arewa maso yammaci da ake yawan samun matsalar sace-sacen mutane domin kudin fansa.
Wata kungiyar tabbatar da tsaro da shugabanci na gari wato Birnin-Gwari Vanguards For Security and Good Governance ta yi kira ga gwamnati ta gaggauta tura jiragen yaki domin gano mabuyar 'yan bindigar da suka addabi yankin tare da tarwatsa su.
Kungiyar ta ce idan har ba a dauki mataki ba musamman a hanyar Birnin Gwari zuwa Kaduna da yankin Sabon-Birni da Maidaro da hanyar Birnin-Gwari zuwa Funtua da kuma dajin Kamuku, to mutanen yankin ba za su iya fita ba domin noman abincin da za su ci.
BBC Hausa