Gwamnan jihar Kano Dr Abdullahi Umar Ganduje ya ce ba cin amana tsakanin shi da Sanata Rabiu Musa Kwankwaso.
Manyan 'yan siyasar na Kano ba sa ga-maciji da juna tun bayan zaben shekarar 2015, inda tsohon Gwamnan na Kano Kwankwaso ya goyi bayan mataimakinsa Ganduje.
Mutanen biyu sun shafe shekaru suna tafiya tare a siyasance kafin su raba-gari.
Gwamna Ganduje ya shaida wa BBC cewa "a ganinmu ba a ci amanarsa ba sai idan shi ne bai fahimci abin da ake nufi da cin amana ba."
'Idan yana nufin cin amana shi ne, shi ya ba ni mulkin jihar Kano ba Allah ba, to ina ganin wannan akidar da ya dauka haka ne."
Ya kara da cewa; "idan kuma ya dauka cewa ya taimake ni na zama gwamnan jihar Kano, amma kuma yana mun tadiya yadda gwamnati na ba za ta yi nasara ba, shi yake nufi da cin amana, to mu ba ma kallonsa a matsayin shi ne cin amana."
Shin Bola Tinubu zai iya sasanta rikicin APC?
Saraki ko Kwankwaso: Wa zai iya ja da Buhari a APC?
Ganduje ya bayyana dangantakarsa da Kwankwaso a siyasance fiye da shekara 20, inda yace sun taimaki juna, "don haka batun cin amana bai taso ba."
Gwamnan ya ce babu yadda za a yi mutum ya haifi da, daga baya kuma ya dawo ya ce zai dauki wuka ya yanka dan.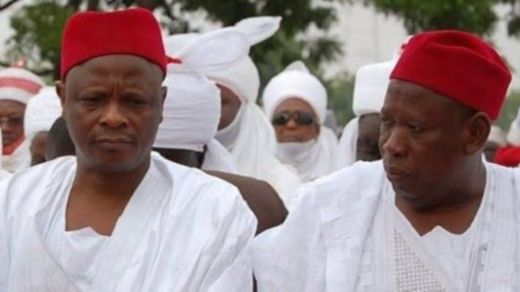 Da aka tambayi Ganduje kan dalilin da ya sa ya kori 'yan Kwankwasiyya daga gmamnatinsa, sai ya ce, "na yi watsi da su ne saboda yadda suka dinga yi wa gwamnati na zagon-kasa."
Bangaren Kwankwasiyya dai na zargin Ganduje da cin amanarsu da bita-da-kulli ta hanyar yin watsi da tsarin asalin gwamnatinsa.
Amma Ganduje ya ce "babu gwamnan da zai yarda ana ma sa zagon kasa a gwamnati, ko Kwankwaso ba zai yarda da haka ba."
Rikicin Ganduje da Kwankwaso ya raba Jam'iyyar APC gida biyu a Kano, tsakanin bangaren da ke ganin yana takama da karfin gwamnati da kuma bangaren da ke ikirarin rinjayen goyon bayan jama'a.
BBC Hausa