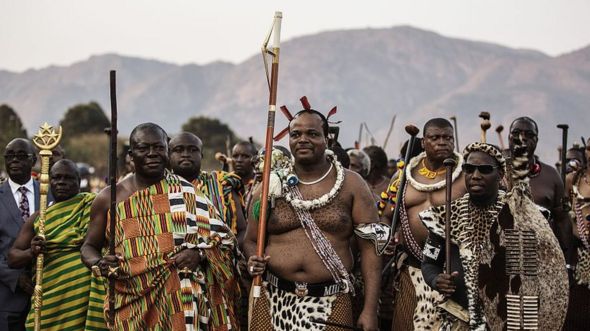 Babu mutane da dama a duniya da ke iya sauya sunan kasa. Amma Sarki Mswati yana iyawa. Yana daya daga cikin sarakuna a duniya da ke da cikakken iko.
Sarki Mswati na uku ya bayyana cewa ya sauya sunan kasar Swaziland zuwa "the Kingdom of eSwatini" ma'ana "Masarautar eSwatini"
Sarkin ya bayar da sanarwar sauya sunan ne a wani filin wasa, yayin bikin ranar samun 'yancin kan kasar, da kuma cikarsa shekara 50 a duniya.
Sabon sunan eSwatini na nufin "Kasar Swazi". Sauya sunan dai ya zowa jama'a ba zato-ba tsammani, to amma dama Sarki Mswati ya shafe shekaru yana ambatar kasar ta Swaziland da sunan eSwatini.
Swaziland: Google ya amince da yada bidiyon 'rawa tsirara'
Swaziland na dab da kawar da maleriya
Addinin Kiristanci kawai za a koyar a makaratun Swaziland
Shi ne sunan da ya yi amfani da shi lokacin da ya yi jawabi a babban taron Majalisar Dinkin Duniya a 2017, da kuma lokacin da ya kaddamar da majalisar kasar a 2014.
Ya bayyana cewa tsohon sunan yan rikita mutane. "Duk lokacin da muka fita kasar waje sai a ringa kiranmu Switzerland."
Wakilin BBC a Swaziland ya ce sauya sunan ya fusata wasu 'yan kasar, wadanda ke ganin kamata ya yi sarkin ya maida hankali kan tattalin arzikin kasar da ke fama da masassara.

Wasu bayanai game da Swaziland
Ita ce kadai kasa a Afirka da har yanzu sarakunan gargajiya ke mulki da cikakken iko
Karamar kasashe da gaba daya kewayenta tsandauri ne.
Sarki Mswati III a yanzu yana da mata 15, wanda ya gada kuwa yana da mata 125
Ita ce kasar da aka fi dama da cutar HIV/Aids a duniya
'Yan kasar ba sa tsawon rai, mafi yawan maza ba sa wuce shekara 54, mata kuma 60